More than 100,000 flee El Niño flooding in Paraguay, Argentina, Brazil and Uruguay
Worst El Niño in more than 15 years causes several deaths and drives thousands from their homes in border areas of four South American countries
Aerial views of El Niño flooding in Argentina – video
Reuters in Asuncion and Buenos Aires
Saturday 26 December 2015 20.48 ESTLast modified on Sunday 27 December 201505.47 EST
Share on PinterestShare on LinkedInShare on Google+Share on WhatsApp

More than 100,000 people evacuated their homes in the bordering areas of Paraguay, Uruguay, Brazil and Argentina due to severe flooding in the wake of heavy summer rains brought on by El Niño, authorities said.
The Paraguayan government declared a state of emergency in Asunción and seven regions of the country. Several people were killed by falling trees, local media reported.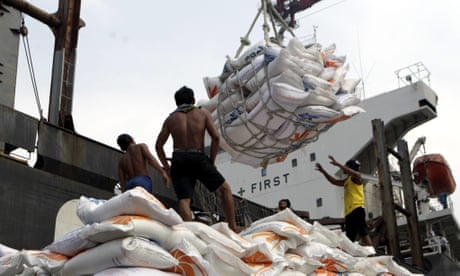 El Niño: food shortages, floods, disease and droughts set to put millions at risk
Read more
"[The flooding] was directly influenced by the El Niño phenomenon which has intensified the frequency and intensity of rains," the national emergencies office said.
This year's El Niño, which is linked to global climate fluctuations, is the worst in more than 15 years, according to the UN's World Meteorological Organisation (WMO).
"Severe droughts and devastating flooding being experienced throughout the tropics and subtropical zones bear the hallmarks of this El Niño," said WMO chief Michel Jarraud.
In northern Argentina about 20,000 people had to abandon their homes, the government said.