ABC NEWs
(@mkeneally)Sep 10, 2015, 10:33 AM
Flooding surrounding Japanese river has led to evacuations of around 100,000 people as the raging waters are wreaking havoc through the region.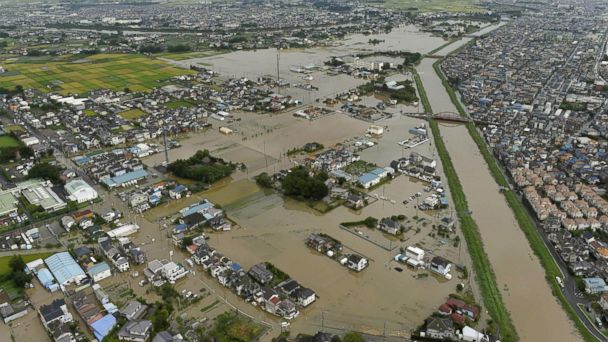 AP Photo
Houses are flooded due to heavy rain in Koshigaya, Saitama prefecture, near Tokyo, Sept. 10, 2015.
The city of Joso, which is about 30 miles northeast of Tokyo, was among the worst hit by the deluge of rain and flooded rivers, authorities said.
Video footage shot from helicopters shows how some residents climbed to their roofs as they tried to get help by rescue workers.
In addition to the clear danger facing residents, Japanese authorities are particularly concerned about the flooding, given its proximity to one of the country's biggest nuclear power plants, Fukushima -- damaged by the 2011 earthquake and subsequent tsunami.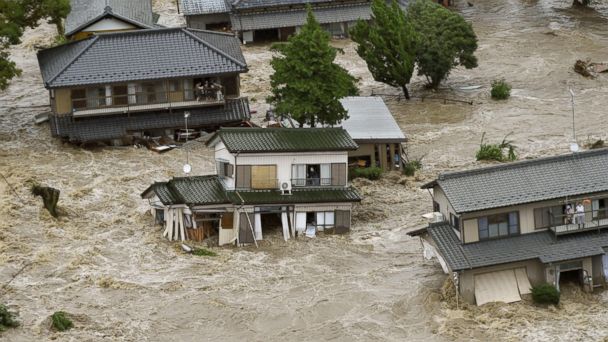 AP Photo
PHOTO: People inside houses wait to be rescued as the houses are submerged in water flooded from a river in Joso, Ibaraki prefecture, northeast of Tokyo, Sept. 10, 2015.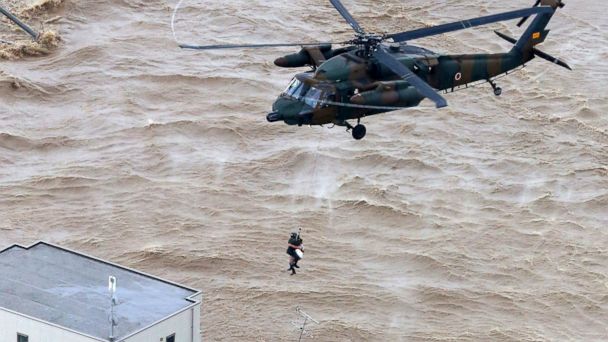 AP Photo
PHOTO: A resident is rescued from a flooded residential area in Joso, Ibaraki prefecture, northeast of Tokyo, Sept. 10, 2015.
"The torrential downpour is threatening safety at the Fukushima nuclear plant, closed since the 2011 disaster, as it has overwhelmed drainage pumps at the site's contaminated water treatment facility," a Japanese government official told ABC News.
More than 31,000 people who live in the 14-square-mile area of impacted Joso gathered in schools and community centers for shelter, according to the Associated Press.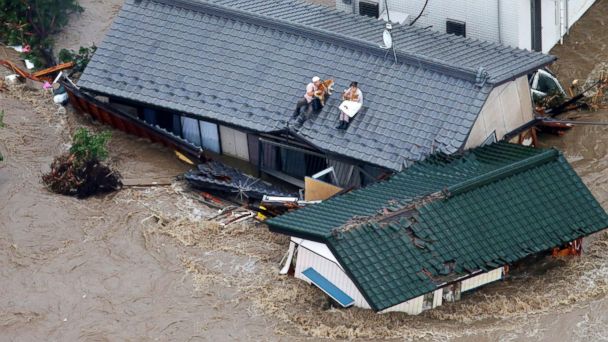 AP Photo
PHOTO: Residents holding dogs wait for help, sitting on the roof of their house in the flooded city of Joso, Ibaraki prefecture, northeast of Tokyo, Sept. 10, 2015.
Members of the state military were delivering food and water to about 780 others who were stranded but decided that they were not going to evacuate, the AP reported.
There have been no reports of fatalities yet, but the Fire and Disaster and Management Agency said that 22 people have been injured during the storms over the past two days, according to the AP.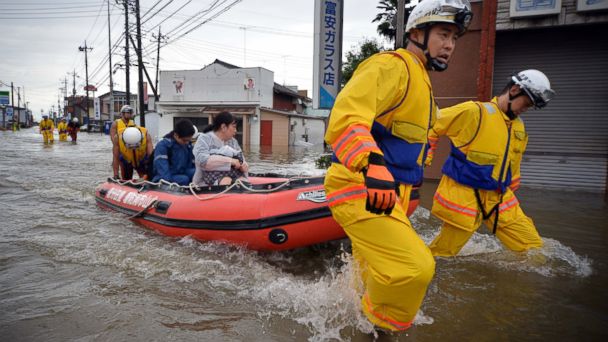 AFP/Getty Images
PHOTO: Rescue workers transport evacuees in a rubber boat through floodwaters at Oyama in Tochigi prefecture, north of Tokyo on Sept. 10, 2015.