There have been two attacks in Spain's Catalonia region involving people driving cars at crowds at high-speeds.
Here is what we know so far.
What happened?
On Thursday afternoon at 16:50 local time (14:50 GMT) a white van smashed into people on Las Ramblas, a famous boulevard in central Barcelona that runs 1.2km (0.75 miles) and was packed with tourists.
The van driver is said to have zig-zagged to try and hit as many people as possible along the pedestrianised area, knocking many to the floor and sending others fleeing for cover in shops and cafes.
He killed 13 people and injured more than 100, and managed to flee the scene.
Spanish police have described it as a terror attack.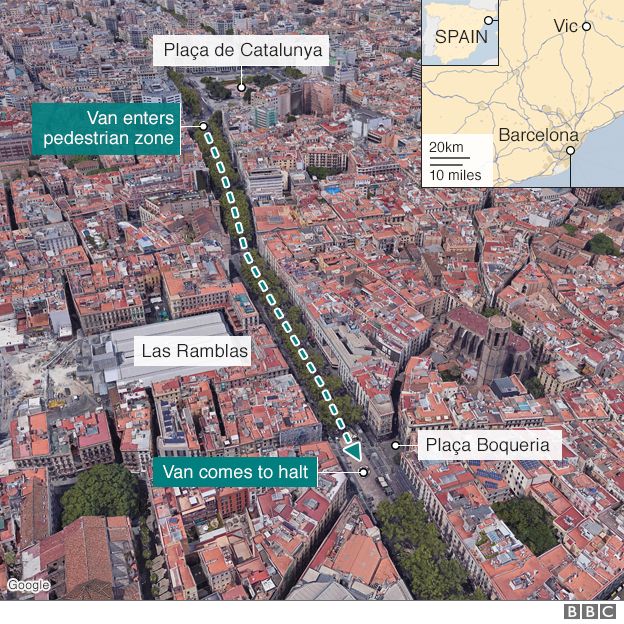 What was the second attack?
About eight hours later, an Audi A3 car ploughed into pedestrians in the popular seaside resort town of Cambrils, 110km (68 miles) south-west of Barcelona.
Six civilians were injured, one critically, and a police officer was hurt too.
Five attackers, some of whom appeared to be wearing suicide belts, were then shot by police. Four died at the scene and one later died of his injuries.
Controlled explosions were carried out and authorities later said the explosive belts were fake.
Both the Las Ramblas and Cambrils attacks are believed to be linked.
Who has been arrested?
On Thursday, one person from Spain's north African enclave of Melilla was arrested in Alcanar and a Moroccan was arrested in Ripoll. Both are towns in Catalonia - the same region as Barcelona.
Police say neither of the pair arrested was the driver.
Documents belonging to the Moroccan, 28-year-old Driss Oubakir, were allegedly used to rent the van used in the Las Ramblas attack but local media report he says his papers were stolen and used without his knowledge.
He arrived in Barcelona from Morocco on 13 August, the El Pais newspaper reports, citing police sources.
On Friday, police announced another arrest in Ripoll. It remains unclear how many people were involved in the plots.
Weren't there other incidents too?
On Thursday evening at 19:30 local time, a car was driven into officers at a checkpoint on the outskirts of Barcelona.
The car was later found with a dead man inside it, but the interior ministry has denied earlier reports he was killed by police gunfire. He is not believed to be linked to the Las Ramblas attack, officials say, but investigations are ongoing
On Wednesday night, an explosion completely destroyed a house in Alcanar, 200km south of Barcelona, killing one person and wounding seven.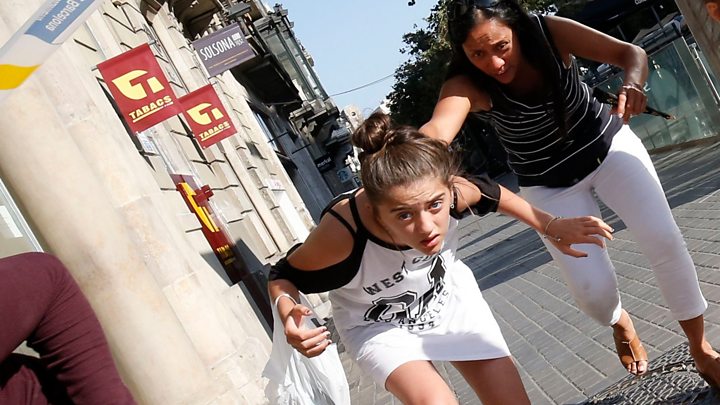 That incident is believed to be connected to Thursday's events.
Who are the victims?
They come from all over the world, with at least 24 nationalities represented.
People from Ireland, France, Australia, China, Pakistan, Venezuela, Algeria, Peru, Germany, the Netherlands, Greece, Hong Kong, Taiwan and the Philippines are all reported to be among the victims.
Belgium said one of its citizens was killed and France said 26 of its nationals were injured, 11 seriously. The Australian government said at least four citizens were injured.
Who is responsible?
So-called Islamic State (IS) has said it was behind the Las Ramblas attack and that IS "soldiers" carried it out. But it did not provide any evidence or details to back up the claim.
Why Spain?
The country is one of Europe's most popular tourist destinations but in recent years has not seen the kind of jihadist violence that has rocked France, the UK, Belgium and Germany.
Still, Spain has been targeted before - several trains in Madrid, the capital, were bombed by al-Qaeda inspired militants in 2004, killing 191 people.
The IS news agency, Amaq, said the attack was carried out as part of efforts to target states fighting in the US-led anti-IS coalition.
A few hundred Spanish soldiers are in Iraq, training local forces fighting the Sunni militant group.
How much jihadist activity is there in the country?
The number of operations carried out against jihadists has increased significantly since Spain raised its terror alert level to four out of five in June 2015, meaning there was "high risk" of a terror attack.
Before these attacks, 51 suspected jihadists had already been detained in the country this year, while 69 were detained last year, and 75 were detained in 2015, according to El Pais.
Security and surveillance was stepped up in the wake of truck attacks in the French city of Nice in July 2016 and the German capital Berlin in December.
SEE ALSO: